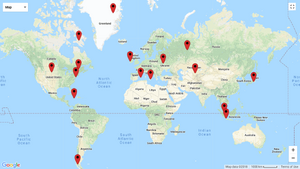 Filming Locations are areas where a season of Survivor ORG is fictitiously set.
Season
No.
Locations
Continent
1
Ural Mountains, Russia
Eurasia
2
Pulau Hantu, Singapore
Asia
3
Quebec City, Quebec, Canada
North America
4
Fuji-Hakone-Izu National Park,

Metro Tokyo-Honshu, Japan

Asia
5
Grønlands National Park,

Greenland, Denmark

Europe
6
Kingston, Jamaica
North America
7
Coast of Majorca, Spain
Europe
8
Mount Etna, Sicily, Italy
Europe
9
Black Hills, South Dakota, USA
North America
10
Cliffs Of Moher, Lahinch, Ireland
Europe
11
Torres del Paine National Park,

Puerto Natales, Chile

South America
12
Sunda Strait, Indonesia
Asia
13
Chernobyl, Ukraine
Europe
14
Pine Barrens, New Jersey, USA
North America
15
Turkestan Desert, Turkmenistan
Asia
16
Baffin Island, Nunavut, Canada
North America
17
Space
N/A
18
Kilsbergen, Sweden
Europe
19
Black Forest, Germany
Europe
20
Atlasov Island, Russia
Asia
21
Tofino, Vancouver Island, British Columbia, Canada
North America
22
Carthage, Tunisia
Africa
Community content is available under
CC-BY-SA
unless otherwise noted.