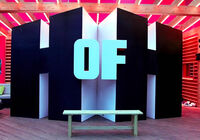 The Head of Household (abbreviated HoH) is the position of supreme power and control in the Big Brother house. Each week, all houseguests compete in the HoH Competition. The winner of Head of Household is free from the threat of eviction. They receive perks but are also faced with the decision of nominating two houseguests for eviction.
The Head of Household is not legible to cast a vote during the eviction ceremony. However, the HoH is responsible for casting the deciding vote to evict in the event of a tie.
In the event that the Head of Household fails to provide the names of his/her/their nominees within the allotted Nomination time period, the HoH and one randomly selected houseguest shall go on the block. The person who came second in the HoH competition will then assume the role of the HoH. The new HOH will compete in the veto competition with the individuals on the block (along with the randomly chosen participants) and shall not vote to evict.
Final Head of Household Competition
The Final HoH competition occurs when there are only three remaining houseguests. All houseguests are eligible to compete including the outgoing HoH.
It is broken into three parts. The first competition grants the winner the perk of automatically advancing to the third round while the two remaining houseguests compete in the second round. The final round is a competition between the winners of rounds one and two.
The winner of the Final HoH competition selects who to take to the final two, with the other houseguest being immediately evicted and given the final spot in the jury.
Trivia
Community content is available under
CC-BY-SA
unless otherwise noted.