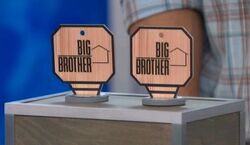 Nominees are the people targeted for eviction. It is the responsibility of the Head of Household to choose houseguests to nominate for eviction.
The Nomination Ceremony
The Head of Household selects houseguests to nominate for eviction. The HoH usually chooses two nominees but this may change in some occasions due to a twist.
The ceremony is usually done with the HoH announcing both of the houseguests he/she/they determined as the nominees for eviction.
The Backdoor
It is a popular strategy to place two houseguests in an opposing alliance to the Head of Household on Nomination Block. However, because both nominees get to play in the Veto, a popular strategy called "backdooring" places two "decoy nominations" on the block. The HoH doesn't want either of the nominees to go home, they are merely used as placeholders until after the Veto. This prevents a strong competitor from playing in the Veto, thus saving themselves. Instead, the Veto is guaranteed to be used and the HoH selects their true target as the replacement, thus leaving them defenseless.
Nominations Twists
The following are twists that affect the nomination process for a week or multiple weeks:
Trivia
Malik holds the record for most times nominated with 4.
Community content is available under
CC-BY-SA
unless otherwise noted.