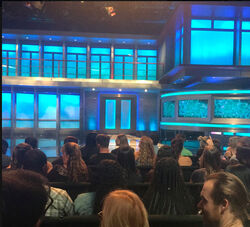 The Viewing Lounge is a virtual room where the audience can follow the Canadienne ORG Big Brother season.
It comes in a form of a Closed Facebook Group. The hosts post events happening in the game such as competition results, evictions, twists, etc. The audience is given freedom to react to events in the game by posting comments. Houseguests who are still part of the game are denied entry to the Viewing Lounge. After houseguests are evicted or once the game has ended, they are then allowed access to the Facebook Group.
Starting in Season 3, former houseguest Malik conducts exit interviews with the evicted houseguests via Facebook chat and the conversations are then posted in the Viewing Lounge.
An individual leaking information from the Viewing Lounge to the remaining houseguests will result to that person getting removed from the Facebook Group and banned from the Canadienne ORG wiki site.
Viewing Lounge Poll
The Viewing Lounge Poll is a twist that allows the audience to vote for an outcome that they want to happen and affects the game of a Canadienne ORG season.
History
Big Brother 2
The Viewing Lounge Poll was introduced in the second season of Canadienne ORG Big Brother, and was announced during the first week. The audience was asked who among the remaining houseguests they want to receive the ability to send a houseguest of their choosing to the penthouse suite, which they'd be there for a week, cut off from everyone else. This lasted for five weeks.
Community content is available under
CC-BY-SA
unless otherwise noted.